---
New Color Silicone Tubing Provides Instant Line Identification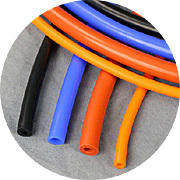 We are pleased to announce the availability of Color Silicone Tubing for fluid and air transfer. The solid-color tubing offers quick recognition of individual tubing lines while it retains the performance characteristics for which silicone is known. Applications include the transfer and processing of liquids and gases in the pharmaceutical, chemical, food and dairy, beverage, cosmetic, biomedical, and biotechnology industries.
Color Silicone Tubing allows for immediate recognition of multiple lines. Various colors can be used to associate the line with temperature, contents, departments and work shifts, processing equipment, or other user-defined specifics. Colors will not degrade or wash off like ink can. Because the tubing is a solid color and encompasses the entire length of the tube, misidentification is less likely than with color identification that covers only part or one side of a tube, or occurs at one fitting attachment or the other.

Silicone tubing's extreme flexibility, ability to be sterilized/autoclaved, and the fact that it imparts no taste or odor to critical streams are all retained when color is introduced during the manufacturing process. In addition, Color Silicone Tubing resists temperature extremes (-100°F to 400°F), compression set, chemical attack, ozone, radiation, and moisture.

Color Silicone Tubing is a platinum-cured product that is custom produced according to specification. Peroxide-cured tubing is also available. Users can detail the color(s) needed for each application in tubing sizes ranging from .030" to 1" I.D.


Tidigare nyheter
---